Boost your brand during the Winter Olympics, 26th – 27th Feb

In connection with the 2022 Beijing Winter Olympics and Paralympic Games, Norwegian Business Association China, Consulate General in Shanghai, Innovation Norway, and The Norwegian Seafood Council is planning to co-organize a Norwegian Winter Sports and Lifestyle Market in Shanghai. Norway has been a strong force in the Winter Olympics Games, and given the high exposure of the Olympics Games, it could be a prime branding opportunity for Norway and Norwegian products among Chinese and the international communities during the period. Therefore, we would like to check the interest amongst the companies for organizing of this event, and to proceed if the overall participation rate is sufficient.­­
Spanning from 26th – 27th February 2022 (Saturday –Sunday) the Lifestyle Market is planning to be hosted at the outdoor central garden of the Bund Financial Center, with outreach to approximately 70,000 – 100,000+ public visitors. Apart from the lifestyle market, we are also planning for a range of Norwegian cultural elements, as well as interactive winter sports experiences. 
The target audience are, but not limited to Chinese consumers with interest in the Nordics or Nordic lifestyle, winter Sports lovers, and consumers who are seeking for products of high quality and design. Moreover, the Chinese authorities, companies, distributors, and business partners will also be invited and the Norwegian & expats communities in Shanghai are also welcomed.
The event will be promoted through the Team Norway's social media platforms as well as the solid network of BFC PR & Digital Promotion Network, including state-owned mediain Shanghai and social media KOLs.
Given the branding opportunity for Norway brands, we would like to check the interest from company's participation at the Lifestyle Market and there are 2 ways that companies can participate.
1. On-site Stand both days –RMB 8000 (Indicative price)
The stands are located beside the ice-skating rink and is customized for Norwegian consumer brands that offer on-site sale and products display opportunity. Each of the enrolled company will get a stand  with unified Brand Norway decoration including backdrop, heater, table, and chairs. The company can further decorate the inner space of the stand at their own expense if needed. Logistics with regards to the products deliveries and onsite management needs to be arranged by the companies themselves. 
2. On-site Mini-Exhibition  both days– RMB 5000 (Indicative price)
The on-site Mini-Exhibition are located around the ice-skating rink and are designed to offer Norwegian Industrial companies to showcase their services or industrial products via a customized promotion wall where desired content can be displayed. Each of the enrolled company will get one standard sized wall, where both text, image & video (LED Screen attached to the wall) content can be displayed.
Please find more information about the Company stand & Mini -exhibition by clicking here or scan the QR Code given below.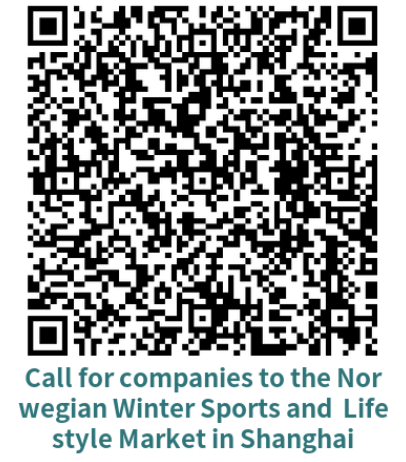 Please send email to administration@norbachina.com before Thursday Morning, 27 January 2022 to indicate you interest! Please note the event will only take place with a sufficient numberof interests from the companies. This is an outdoor event to minimize the risk of transmission of COVID-19